DokuWiki is one of the most used free Wiki platforms available.
How to install DokuWiki manually:
1. Download the DokuWiki archive from https://download.dokuwiki.org/
2. Extract the archive. You can use the a software like WinRAR, WinZip, 7-Zip. Many files managers like Total Commander can uncompress the archive.
3. Use an FTP client to connect to your web hosting account and upload the files. We recommend FileZilla. Check the tutorial here https://www.plothost.com/kb/use-filezilla-connect-ftp-web-hosting-account/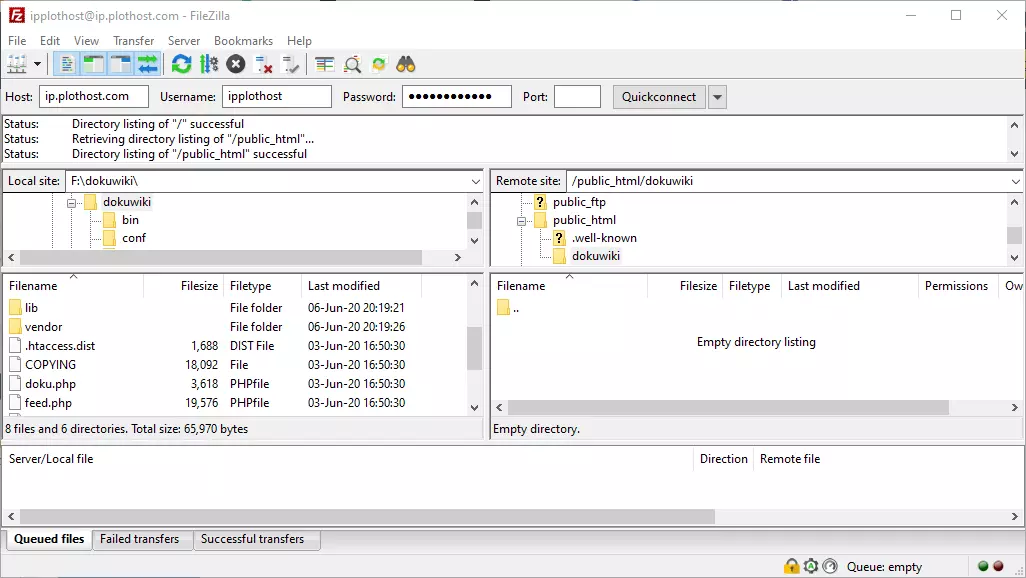 4. Access the install.php in your web browser
https://example.com/install.php
and enter the installation's details – Superuser, email, password, the type of the ACL policy and the content license you want to use.
Click the Save button to save the configuration. A confirmation message will be displayed:
The configuration was finished successfully. You may delete the install.php file now. Continue to your new DokuWiki.

DokuWiki installation message
5. Delete the install.php file. The DokuWiki installation is now complete.
PlotHost is offering DokuWiki web hosting plans at affordable prices. All plans come with free DokuWiki support. DokuWiki consulting services included – we will assist you to install any plugins/templates, update and customize the installation.
DokuWiki hosting @ https://www.plothost.com/dokuwiki-hosting/